Executive Dashboard is powerful web-based business intelligence software (BI) that provides a consolidated view of an organization's performance, making it easy to:
Take advantage of a balanced scorecard approach to management.
Measure and understand an organization's key performance indicators and performance metrics.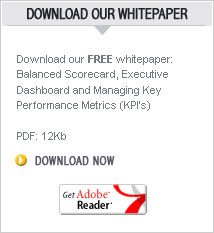 Executive Dashboard
provides a management tool for setting expectations for every organization at every level, with easy-to-understand reporting of the status of progress throughout the year. Measures set at each level roll up to higher indicators, creating a means for gauging the status of your organizational progress.
Every area of your organization - sales, production, distribution, finance, etc. - all can have a direct impact on your company's overall financial performance. Unfortunately, it is extremely difficult to capture and report data points from every level of the organization to know exactly how well your business is performing. Those reports that do exist are typically not available until it's too late to take corrective action. Executive Dashboard has been specifically designed to help organizations with the following issues:
Tardy and inaccurate access to key performance indicators.
Inability to spot negative trends early.
Human errors and eliminating duplicate data entry.
Generating detailed reports to show emerging trends.
Identifying operational efficiencies.
Identifying and proactively applying preventive measures.
Executive Dashboard helps you:
Set performance goals at each level.
Track key performance indicators.
Establish measures and criteria for monitoring progress.
Identify, track, trend and correct problems.
Design and print key performance indicator reports.
Understand your organization's financial health.
Meet regulatory requirements.
See how Executive Dashboard can help
Request a Test Drive of Executive Dashboard